The new Entity Framework Code First feature can help you use a more domain-driven approach while building your data tier on top of the Entity Framework. Microsoft said it expected to deliver the new functionality before the end of April -- so it should be available by the time you read this. In Code First, you can use only code without any designer or. First you create Plain Old C Object POCO classes that represent the domain model, and then you use a set of built-in tools like a fluent interface, data annotations and conventions in order to configure a runtime EDM for the domain model.
Figure 1 summarizes the current Entity Framework development approaches. This article will explain what the Code First development approach is all about and how to use it in order to implement your data-access layer. The article is based on the Entity Framework Feature community technology preview CTP 5, therefore things might change in the official release of Code First. The idea behind it is to supply a simple API for an EDM runtime configuration, providing a second alternative to using.
The rationale behind the feature is that many developers, including myself, prefer to write code and use conventions instead of using XML files for configurations and modeling. It's faster, more productive, simpler and, of course, less error-prone than a hardcoded static-configuration file. This is why this approach is so essential in the development of a tool like the Entity Framework.
Another driver is domain-driven development principals. Using Code First enables the creation of a domain model without any concern about the persistence layer and how it's going to be implemented. All you need to do is develop your domain model using POCO classes and let Code First figure out how to create the EDM from it and even the database in some circumstances.
This is implemented by a conventions engine that's built inside the Code First runtime. If you want to change Code First default conventions, there are a lot of extension points in the configuration process, such as a fluent interface API, data annotations and more. These classes represent a lightweight wrapper implementation on top of the Entity Framework ObjectContext and ObjectSet classes, respectively.
Also, there are some new methods that help implement common development needs, such as finding an entity or changing an entity state. The DbContext is a main object in Code First that exposes the interaction between the Entity Framework and the database. Its responsibilities include database connectivity, change tracking, data persistence, entities caching and more. It's also a container of all the DbSets that you'll create in order to work against the database. The DbSet is a collection representation of a set of entities.
You can think about it as an in-memory representation of database records, but it's much more than that. It exposes a set of collection methods such as Add and Remove in order to manipulate the set's data. The Domain Model The first thing I encourage developers to do when they start using Code First is build their domain model. In order to build a domain model you need to build simple POCO classes and a database context that inherit from DbContext.
The interesting thing is the CompanyEntities, which is the context to the database. The context is playing the role as the database gateway, which will help to manage the entities' state, open connections and more. It includes two DbSets for each entity set that we have in the model. The entities will be placed in an entities assembly while the context will be placed in the Data Access Layer. Using only this model is enough to get a runtime EDM. Code First will use its default conventions in order to achieve the building of the EDM during the execution of the application.
These conventions include building primary keys out of properties that have the Id suffix, building foreign keys out of entities relations and more.
Entity Framework Books | Entity Framework 6 Tutorial and Documentation
Also, as a side effect, if a database or a connection string to an existing database doesn't exist, the Code First runtime will create a database in the SQL Express server of the current machine. The calling to the constructor of DbContext with a string parameter, as in Listing 1 , will force Code First to look at whether a connection string with the Manpower name exists. If the connection string exists then it will be used as a connection string to the database; otherwise the supplied string will be used as the database name.
If the developer doesn't supply a database name, the convention of the database name is the namespace of the assembly followed by the name of the context for example, DAL. Figure 2 shows the created database after running the model inside a simple console application. As you can see, the database was created with all the relevant primary keys and foreign keys. WriteLine "Press any key to exit Enter a name for a new Blog: ADO.
NET Blog Press any key to exit By convention DbContext has created a database for you. BloggingContext These are just the default conventions and there are various ways to change the database that Code First uses, more information is available in the How DbContext Discovers the Model and Database Connection topic.
Learn Entity Framework Core 2.0 From Scratch - Code First Approach (Part 1 of 10)
Although we let Code First automatically create these tables for us, now that we have opted in to Migrations they have been converted into a Migration. Code First has also recorded in our local database that this Migration has already been applied. The timestamp on the filename is used for ordering purposes.
POCO Support Comes to Entity Framework 4;
The Forest Diary.
Configure Domain Classes in Entity Framework 6.
Economics Unit 3 Globalisation OCR GCSE.
Fantastic Stories of the Imagination (with linked TOC).
Code First to a New Database!
The Add-Migration command checks for changes since your last migration and scaffolds a new migration with any changes that are found. The scaffolded code is saying that we need to add a Url column, that can hold string data, to the dbo. Blogs table. This command will apply any pending migrations to the database.
Demo Project.
Programming Entity Framework: Code First [Book]?
Healthy Book of Lists: A Collection of Easy to Use Tips and Recipes for Living a Healthier, Smarter, Yummier Life!.
Our InitialCreate migration has already been applied so migrations will just apply our new AddUrl migration. The new Url column is now added to the Blogs table in the database: 6. Define the key for this EntityType. Fluent API In the previous section we looked at using Data Annotations to supplement or override what was detected by convention.
Update an Existing Database using Code First Migrations with ASP.NET and Entity Framework
Run the Update-Database command to apply the new migration to the database. Feedback Send feedback about This product This page. You may also leave feedback directly on GitHub. This page. Submit feedback.
Code-First Workflow
There are no open issues. View on GitHub. Just create a model class in your project and work with them. Entity Framework — Code First means you write your model class first and according to model class EF setup your database. In the previous lesson, you have learned EF — Database First in which you created a database and table first and according to database design, EF automatically created model classes and DBContext for your project. In one sentence: EF makes your programming easy and does most of the thing automatically for you.
Account Options
The real project will be start from the next lesson. Toggle navigation.
C Articles. MVC Articles. Learn By Codes.
Programming Entity Framework: Code First: Creating and Configuring Data Models from Your Classes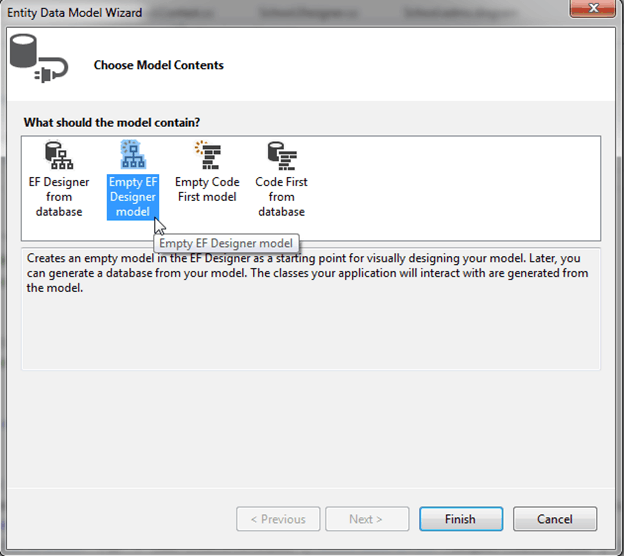 Programming Entity Framework: Code First: Creating and Configuring Data Models from Your Classes
Programming Entity Framework: Code First: Creating and Configuring Data Models from Your Classes
Programming Entity Framework: Code First: Creating and Configuring Data Models from Your Classes
Programming Entity Framework: Code First: Creating and Configuring Data Models from Your Classes
Programming Entity Framework: Code First: Creating and Configuring Data Models from Your Classes
Programming Entity Framework: Code First: Creating and Configuring Data Models from Your Classes
---
Related Programming Entity Framework: Code First: Creating and Configuring Data Models from Your Classes
---
---
Copyright 2019 - All Right Reserved
---